:

About Us
Precision, Safety, Performance...
Advanced Chemistries to Improve Your Products & Processes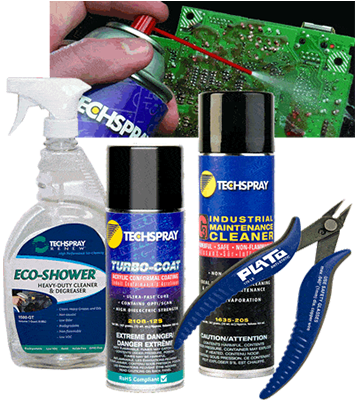 Techspray specializes in cleaners, coatings, and other chemicals and tools that improve efficiency, safety, and performance.
PRECISION
Techspray is trusted where process control is essential. Precision-V is the latest solvent line designed to meet the cleanliness standards of aviation, electronics, and other critical cleaning applications. Precision-V is the ideal choice to replace AK225 as it approaches EPA phase-out in 2015.
SAFETY
Techspray offers cutting-edge technologies to improve safety for personnel and the environment. G3 Industrial Cleaner replaces toxic chemicals like nPB, TCE, and Perc, which are commonly used in industrial applications.
Techspray Renew products provide eco-friendly solutions for electronics assembly and plant maintenance. Natural, biodegradable ingredients, low VOC (volatile organic compounds), and zero GWP (global warming potential) are key benefits of Eco-Shower, Eco-Shine, Eco-Stencil, and Eco-Oven cleaners.
Turbo-Coat is an acrylic conformal coating with fast dry time and no HAPs (hazardous air pollutants). All Techspray products are RoHS and REACH compliant.
PERFORMANCE
Techspray products are developed to improve your products and processes. We accomplish this through powerful cleaners, effective coatings, and top-notch customer service. Contact us at 800-858-4043 or tsales@techspray.com.
---
LOCATIONS
Ownership:
Illinois Tool Works (ITW)
NYSE: ITW
www.itw.com
China
Chris Tan
, Sales Manager - China
ITW Specialty Materials (Suzhou) Co., Ltd
Hengqiao Road, Wujiang Economic Development Zone,
Suzhou, Jiangsu Province, China 215200
依工特种材料(苏州)有限公司
江苏省苏州市吴江经济和技术开发区横桥路 215200
+6019-2184801
ctan@itwcce.com
Techspray – US office
ITW Contamination Control Electronics
8125 Cobb Center Drive
Kennesaw, GA 30152
Tel. 678-819-1408
Toll-free 800-858-4043
Fax 770-424-4267
tsales@techspray.com
Techspray – European office
ITW Contamination Control EMEA
Saffierlaan 5
2132 VZ Hoofddorp
The Netherlands
+31 88 1307 400
info@itw-cc.com
Techspray – Asia
Yeoh Keng Hong
Regional Sales Manager - Japan, Southwest Asia (MY, TH, INDIA)
MP : +6017-4869018
Email: khyeoh@itwcce.com
Jessie Matibag
Regional Sales Manager - South East Asia (PHP, SG, INDO) and Taiwan
MP : +6391-57870148
Email: jmatibag@itwcce.com
Chris Jung
Regional Sales Manager - South Korea and Vietnam
MP : 82107334 8989
Email: dgJung@itwcce.com
Chris Tan
Regional Sales Manager - Australia and New Zealand
MP : +6019-2184801
Email: ctan@itwcce.com
---
CONTACT INFORMATION
Corporate:
US – 800-858-4043 | International - +1 678-819-1408
Fax – 806-372-8750; tsales@techspray.com
---
Terms & Conditions:
Suppliers click here
Customers click here
Copyright ©by ITW Contamination Control Electronics. This website is copyrighted material of ITW Contamination Control Electronics